You are here
ADJUMANI'S TB CONTROL JOURNEY TO GLORY
Tuesday, 12 November 2019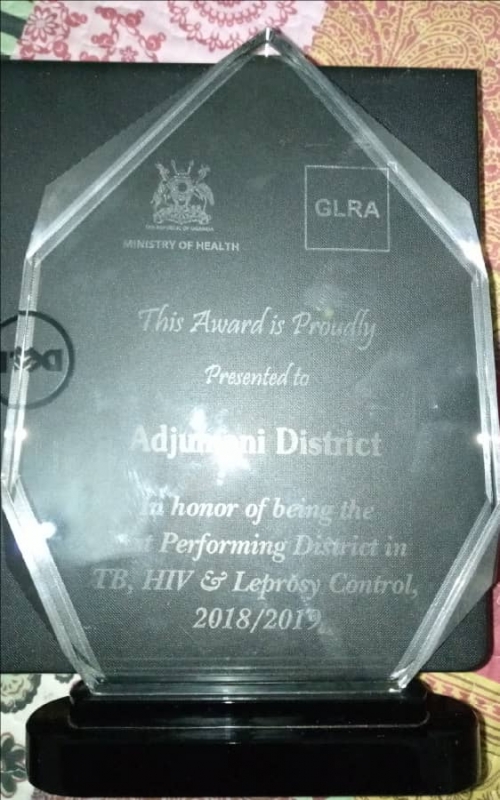 It is amazing how our health Department continues to soar even higher. This year, during the Annual Regional Joint Performance Review meeting that was held in Pakwach, we received another award for best performance in the TB/HIV and Leprosy control program.
You see, Tuberculosis remains a major public health problem in Uganda with an annual incidence of 330 cases of all forms and 136 new smear-positive cases per 100,000 people per year. The expected caseload per year is 102,000 (WHO 2010 Global Report). The 2010 Global WHO Report ranked Uganda 16th among the 22 TB high burden countries.
But the challenges are bigger than they seem, Uganda like most of the Sub-Saharan African countries is battling with the dual burden of Tuberculosis and HIV/AIDS epidemic. It is estimated that about 60% of the TB patients are co-infected with HIV/AIDS. Consequently, this dual epidemic has resulted in a fourfold increase in the notification numbers of TB cases in the region.
In Adjumani district, the TB/HIV and Leprosy control program performance has however been steadily improving with the first drug-resistant case diagnosed in 2012 due to the high level of vigilance by the frontline health workers. The TB/HIV and leprosy program performance indicators has since kept a steady improvement which probably explains why in 2017, Adjumani district was recognized as the most improved district in Uganda in terms of TB/HIV and Leprosy control program.
"In 2012, I was handed the program without training or orientation but it still managed to complement my little experience with hard work which eventually made me get national recognition" Inyani Mane Dolorence, Former TB/HIV, Leprosy control focal person
Amidst numerous challenges though, Inyani says he felt so delighted when he received the award from the State Minister of Health, General Duties, Sarah Opendi, during the 2017 World TB/HIV and Leprosy Day that was commemorated on 24th March in Arua district.
But even the best dancers eventually leave the art or stage. In July 2017, Inyani handed over the TB/HIV and Leprosy control program to Openy Charles Mote. The District Health Office probably wanted to pass on the same kind of glory to HIV/AIDS control. And that is how fate made Inyani the focal point person and coordinator for just HIV but all the infectious diseases control programs in the district.